If you plan to buy a wood chipper for the first time or search for an improved electric model, Sun Joe wood chippers are the ideal option you can pick. 
These chippers are satisfactory when the need to clear up the waste from the garden into something productive has arrived.
In the Sun Joe models, you might find the CJ603E wood chipper comparatively the efficient tool. 
It might not be as fast as a gasoline-powered chipper, but it attracts consumers with its blade placement and powerful engine features.
In this article, we studied and analyzed all the particulars about Sun Joe CJ603E wood chipper, so the consumer understands what a product offers you and how a product can be beneficial for your needs. 
Add a header to begin generating the table of contents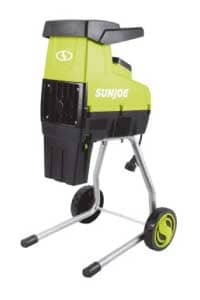 Sun Joe CJ603E Wood Chipper/Shredder
Sun Joe CJ603E wood chipper has improved features and performance as this model is the refined version of the CJ601E and CJ602E wood chipper series. Let's explore the exciting parts of the Sun Joe CJ603E electrical wood chipper.
Powerful Engine
The sun Joe CJ603E wood chipper is equipped with an engine having an enormous power of 15 amps which makes this chipper just suitable for transforming leaves, brushes, twigs, and branches into good nutrient-filled mulch.
Environment Safe: Green & Clean Alternative
The world is finding and shifting towards green and clean substitutes to improve atmosphere quality. If you strongly support this theory, then this wood chipper entails what you require.
The Sun Joe CJ603E wood chipper motor derives its power from an electrical source. So, this feature makes you free from the hassle of dealing with chemicals, and it does not produce harmful fumes in the atmosphere.
In addition, the squirrel cage-like rotor for cutting blades makes this wood chipper run slower and reduces noise pollution.
Safe Operation
While designing a machine, safety proportion is considered necessary, and it provides worth to the device.
Sun Joe CJ603E wood chipper, like its earlier models, CJ601E and CJ602E retain their safety installations, such as hopper locking knob. 
The purpose of this knob is that if this knob is not tightened securely and if the hopper lid is left open before starting a wood chipper, the motor refuses to start. These safety features prevent the hopper from caught-in accidents.
Material Capacity And Reduction Ratio
Sun Joe CJ603E wood chipper has a blade system that can turn feedstock up to 1.75 inches thick and have the potential of reducing the waste of 21 bags into one bag of waste. 
With this chipper, your yard area can clean up in less time with reduced effort. It makes your acquaintance envious of you.
Portability
Sun Joe CJ603E wood chipper is highly compact, making its storage, movement, and transportation easy for the operator.
Relocating this wood chipper is not a challenging task as it only weighs less than 70 pounds. Moreover, you can easily carry and transport this chipper everywhere you go because of the pneumatically designed large wheels of around 7 inches.
Sun Joe CJ603E Wood Chipper Review
In order to analyze and provide a comprehensive, honest review for our customers, we ordered a Sun Joe CJ603E wood chipper.  
We appreciate this wood chipper from our doorstep as we received it. The machine can easily lift, pull, and push as it is not too heavy because of its highly compact design.
The procedure before operating this wood chipper is a piece of cake. First, the already assembled machine needs some parts to be built and to give it a start, you need to plug it into a compatible power switch. 
It is advised that the wood chipper must plug into the closest power outlet. The extension cord must not be more than 100 feet to avoid the voltage breakdown, which ultimately stops the motor leading to smoking.
After the plugin, we were just ready to clean up the yard area. We have piles of bushes and tree limbs that we planned to chip in this chipper to check its material and performance efficiency. 
The stems of up to an inch thick easily get transformed. However, the larger bushes and limbs required pruning before chipping. Nevertheless, this wood chipper saves your time despite having a narrow feeding inlet.
And while chipping continues, this wood chipper makes little noise like a vacuum cleaner.
The features of the Sun Joe CJ603E wood chipper justify its cost. It performs every possible function that the wood chipper can do with 15 amps of the motor. 
However, it is not comparable to the gasoline-powered chipper, but still, it is helpful to clear the mess around your yard.
On testing, we observed that this wood chipper is designed to handle small duty jobs, and it can work best when the raw material is not completely dry and hard. 
However, branches of more than 1 inch in diameter and hardy and dry branches caused the motor to stop or get stuck and start smoking before shutting off itself.
Twigs that are too small also slip past the wheel during cutting and come out as a long piece instead of mulch.
The Good Points About Sun Joe CJ603E Wood Chipper
The Sun Joe CJ603E wood chipper offers a significant number of benefits to its consumer. We have compiled all of them below.
The Bad Points About Sun Joe CJ603E Wood Chipper
The Sun Joe CJ603E wood chipper is considered perfect for domestic purposes. However, it still contains some drawbacks that constraint its market.
You may get the product to your doorstep by clicking these buttons. Check out latest price from different stores to save your money. We are unable to mention price because maybe price changed after few days or months.
What Do Other Consumers Say About The Sun Joe CJ603E Wood Chipper?
After analyzing 552 reviews about this wood chipper, it is concluded that 84% appreciate the product, and 12% of comments have opposing opinions.
Our team scrutinized all the reviews and compiled the most beneficial user experiences below. 
"This barely works. If you think you're getting mulch, you're not getting 2-inch pieces of cut-up wood. If the wood is not completely dried out it won't cut it. If it has Pineneedles it'll get clogged. Look at my photos this is after 20 minutes of using it. The problem is you can either buy a $120 wood chipper or a $600 wood chipper there's nothing in between. I mean it broke on twigs."
"I've been using the Chipper branch shredder for a couple of weeks now and I have to say it's a pretty good machine, especially for the size of the branches it shreds, which are fairly large."
" The mechanism is more of a "slow and powerful" crunching than a "loud and hard" chopping. This is why it's quieter. It works fine for branches up to the listed size."
In short, Sun Joe CJ603E wood chipper is a sturdy small wood chipper that can beautifully manage your garden by turning small branches and twigs into compost. 
It is perfect for anyone to use and transport. In addition, the design of this chipper makes it less noisy compared to other models, so it will not be irritating for your surroundings.
Sun Joe CJ603E Wood Chipper Review