Is summer coming, and you have to clean your backyard but worry about messy wood? Don't you know how to work smartly? So don't worry, we are here with a great product.
Yes! You are right. We are talking about a wood chipper. 
Wood chipper is a large but portable machine helping us in gardening and other residential areas' issues. And ultimately, we can clear piles of logs, twigs, branches, and leaves. 
What? Don't you know how to use it, or are you using it for the first time? Hold on; we have a step-by-step guide to assist you. This article will talk about the major steps you have to follow while using a wood chipper. 
The inside wood chipper team recently posted a top wood chipper review and listed the efficient and most popular wood chippers in the market by varieties, price, type, use, and brand. 
I hope this helps you select the best wood chipper according to your requirement and budget. Scroll down and read more how to use a wood chipper.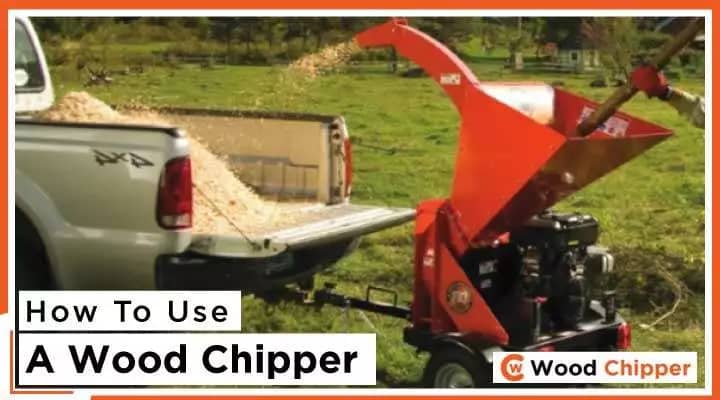 Add a header to begin generating the table of contents
Safety Measures While Operating A Wood Chipper
Before starting operating a wood chipper, there are some safety measures that you must take head-on. 
Step by Step Guide How To Use A Wood Chipper
While using a wood chipper, you have to follow the following steps to get potential outcomes. 
Let's consider these steps one by one. 
1. The level must be flat
Before starting the machine, ensure that the surface must be flat. It's important to avoid life hazards that may result in the most dangerous ones if an operating machine loses balance. 
2. Chip deflector and chip chute adjustment
Wood chippers have chip deflectors and chutes that are adjustable. You can control the distance, direction as well as the speed at which whips are thrown. 
Make sure the chips would not cover all the yard and also would not create a mess. So adjust them wisely. Also, you have to keep your face safe from injuries that may result from chips hitting your face. 
3. Parking brake setup and start the chipper
If a wood chipper is attached to the tractor, then make sure the adjustment is right to avoid chipper movement in either way. 
Also, check the fuel in the powered engine that must be enough in compliance with the job. Before starting, check the cord and ensure that it is not damaged or unplugged in the case using an electric model. When you get it all done, start the machine.  
4. Feed the blunt end first
First, push the blunt end into the machine to make the further process easier, and everything will remain inflow. 
Whenever you feel that something is blocking the pathway, use a long stick to clear it completely. 
Never use large materials as these would not be able to be cut down. Furthermore, these may get back to you, eventually resulting in scratching. 
5. Use dry and green limbs at once 
Don't feed dry and green limbs separately; rather, you can do it in a single step. Using only dry limbs can make the process difficult, but green limbs will act as a lubricant and make it easier. 
However, just green leaves may clog the machine as these have too much moisture. Using both limbs together can also solve this problem by using both limbs together.  
6. Stand on the chipper side
Always stand beside the chipper, not in front of it. Because it can result in serious injury if stuck material is fed out suddenly, you can collect all debris and shift it to a good end when you get it all done.
May You Want Read: How To Feed A Wood Chipper
A wood chipper can become your best friend helping you in cleaning your garden and backyard. It leaves you enough time to spend with your family having a cup of tea in a polished garden. 
Purchase a good-quality wood chipper. Just make sure you will ensure the safety as mentioned above measures and steps to get productive outcomes.
Did you get it? If any confusion is hindering your mind, we are here to clear it.